---

This Weeks

Indie Top 5 Picks!

Jennifer Wicks

picks her 5 most favorite songs.

Click here

LISTEN TO AIRPLAY!
New show airs every tuesday

| | |
| --- | --- |
| | Support Airplay. Click on the podcast logos to Vote for the show. |

---

Listen to this weeks show:

WINDOWS

WINAMP
M3U File

ITUNES

DOWNLOAD mp3

---

Indie Airplay Receives over 5000 Listeners via iTunes Podcast Listing.
Indie Airplay was listed on iTunes Podcast Directory June 28th 2005 and has received over 5000 Listeners already. iTunes V 4.9 was just released from Apple and has a new feature which includes a PodCast Directory.

Next weeks Indie Airplay Podcast will include The Monday Show with Sara Routh recorded live in Hollywood at the Karma Coffee House.

---

Franki Love continues to move the LA audiences. Last year she won the award for Female Singer/Songwriter at the LA Music Awards, Now her song "Shadow" is been given airplay on 95.5 KLOS here in Los Angeles. She has also been given the Ascap Popular Artist Award and even a documentary is in the works. Tony Pretzello featured Franki Love last year on his radio show: Cued-Up. I have placed a link to the interview on the website for those of you who might be interested. The interview runs about 40 minutes and was done last year in september. Franki is one amazing artist and you can catch her live at the Mint on June 25th. Her website is Frankilove.com

---

Stampead Playing April 30th at The Karma Coffee House in Hollywood.
Vocal intensity and melodic guitar work has paved the way for the next monumental rockband. Another Hot Airplay this week is Stampead. Stampead have been compared to the epic sounds of groups such as Led Zeppelin, Pink Floyd, Paul Simon, Smashing Pumpkins, and Pearl Jam.

---

33degree This band is Hot Airplay and they won "THE ROCKIES 2004" FOR L.A.'s BEST GIRL-FRONTED BAND. Their sound is melodic, intense and introspective.

---

Band Sold Seperately Emerging from the suburbs of Orange County, Band Sold Separately, is steadily making its way into the ears of bar hoppers, party people, and music lovers alike. Their sound is accustic driven pop/rock with smooth upbeat rhythms and a mellow vibe.

---

Makeshift Bronson consists of Luke Barrett, Angry Jonny and Paul Strayer. Together they produce Blues Rock for a new Generation. In August 2004 they released a self titled E.P. that was devoured by their faithful local following. While rapid success has promised a compelling future, the band believes that the best is yet to come.

---

Angie Mattson was norminated for FemalePopArtist of the Year at the LA Music Awards 2004. Not only that, her music video 'Drive' was nominated for Best Music Video. Her recordings have been featured in ABC's '8 Simple Rules', and the dvd release of FOX TV's 'Party of Five'.

---

Antaphi is a four piece rock band out of Los Angeles. Combined with their powerful sound and breath taking live shows Antaphi is a band you definitely don't want to miss! From the minute you first hear a song you know that you are listening to something great. They pull you in with songs that anyone can relate to. Theres definitely something for everyone when it comes to Antaphi.

---

Stereo Suite's sonic identity is compared to the styles of Matchbox twenty, Goo goo dolls, Foo Fighters, Counting Crows, Oasis, STP and Fuel. Stereo Suite has one EP out called The D Sides and they are working on a new release this year.

This week we feature a song from Ripped: Daily Ritual. Ripped is from Canada. Read More

---

G3 Live In Tokyo is being released on DVD and a World Premiere special Dolby 5.1 theatrical presentation is hitting 10 Digital theatres across the country on Tuesday October 25th. From Boston to New York to Chicago to San Francisco Pillar Entertainment is delivering this concert Digitally to theatres. Read More

---

With their sophomore album, Thwak Thwak Go Crazy!! out December 6th on SOS Records, BANG sugar BANG seamlessly blends the music of the British Invasion with '77 style punk rock. Their sound has taken on a life of its own, a result of constant national touring and artistic growth. The co-ed vocal interplay between Matt and Cooper has become BANG sugar BANG's trademark – some say the band's most important instrument. Songs such as The Machine Gun Song, Major Label Interest and Tony capture Bang Sugar Bang's distinct brand of sarcasm, "If I could be anything, I'd be a Machine gun 'cuz every time I see you I'm sorry I don't own one". The Machine Gun Song alone earned the band the title of "LA snotties" by GloriousNoise.com. It's a catchy tune Matt wrote during a break up with what he calls "a complete psycho".

---


Since 2002..Alan Smithee has been making quite an impact on the pop and rock scene. From winning Battle of the bands... to playing sold out shows at the Roxy... to be in Music Connections Top 100 Unsigned bands Alan Smithee is presently on a nation wide tour promoting their new CD "Wash Away". It wont be long before everyone knows about David, Matt, Paul, Mike and Frank from Alan Smithee.

---

A type of music you dont hear everyday comes from Dream Aria. They have Elements of Rock, Techno, Progressive, Classical, New Age, Goth, and World music. Powerful raw vocals and guitar, lush keyboards, driving rhythms and inspired lyrics are abundant! As it says on their website: There's something for every music lover in DREAM ARIA...

Besides their music lets talk about their Celestial web design. Their site brings your mind to celestial awareness and its an eperience in it self to roam around and listen to their music.

---

TechnoSquirrels is a Los Angeles based techno collaboration. Both Lisa and Ryan have been active musicians for years playing in rock bands and making their own techno music. They first met in Liverpool, England, when they studied sound technology at the Liverpool Institute for Performing Arts in 1999.

Lisa grew up in Sweden - a country known for its long winter nights. But where there are long nights, there are long raves and Lisa quickly found herself immersed in Sweden's techno scene in the early 90s.

Ryan first hated Techno but it was Living in Liverpool in the shadow of England's famed "CREAM" dance club which changed his mind. Tehcno was way beyond what he had thought possible.

With their first single release: "MUTE" The Techno Squirrels were born.

---

Arden Kaywin
Releases her album Quarter Life Crisis on iTunes

XUK
Releases their album:
Love Hits on CDBaby

---



Don't Call Us Tori
Don't Call Us Tori showcases some of today's best up and coming singer/songwriters with a full lineup to make for an evening of great music. This Saturday Don't Call Us Tori is at The Karma Coffeehouse in Hollywood. Artists are Linsea Waugh, Jenn Grinels, Honey Highway, Elisabeth Nicole, and Angela Correa.

---


From Seattle formed a band called Fireweed in 2002 during a camping trip to the Coast of Oregon.

Fireweed's debut album Dreams of the Black Dog. was created that year striking an interesting blend of folkish honesty and harnessing the emotional power and intensity of their rock backgrounds.

Singer/songwriters John Enga and Kelley Vice together with Drummer Jon Hedges and bassist Rick Herrin are the band today and they are building a following in the Northwest and gaining momentum as a truly original musical force.

Their new album "Dreams Of The Black Dog" was released in July this year, and will be followed by a second CD, Blue Crush, coming in early 2006.

---


Here is an interesting story... Bill Elberg started in NY years ago and was at the time working for nobody less than... Adam Curry. This was in Adams startup days of his first internet venture. Bill played in the New York Band "The Spacedogs" and played frequently in the Village at The Elbow Room. Some of you may have been at his gigs in NY.

Bill moved to LA and together with Buddy Quaid, Singer Tom Halloran from Chicago, Drummer Andrew Hilary from Boston and Mike Samonek from NY they formed The Misprintz. Buddy Quiad left the band in 2002 and since then the band has written over 30 songs and played every major venue in Los Angeles including The Troubadour, The Cat Club, and the Whisky.

These days they are promoting their latest album, "Imperfect Harmony"

---

After a year in which everything seemed to have fallen apart, De Nieuwe Vrolijkheid saw an opportunity for a new beginning. Through dive bars and squats, a new love for music and for each other was found. Noise jams that had been recorded on minidisc formed a starting point from which a new course was set. Lyrics concerning the absurd and slippery reality of daily life, or the more common topic of broken hearts, are the focal point in DNV¹s fragmented noisepop.

De Nieuwe Vrolijkheid, recently finished recording their first EP and they became "Talent of the Week" on OngenkendTalent.nl in Holland. Now they are hitting Podcasters with their new and undiscovered music from Holland.

---


39 REASONS OFF ON TOUR
Starting at 14 Below in Santa Monica on July 30th, 39 Reasons are now on a cross country tour.

CONTEST: Take your camera to one of their shows, take a picture of 39 Reasons and email it to airplay@suite108.com. The Winner will be announced September 6th. And the Prize is: 39Reasons EP, A 39 Reasons T-Shirt and a baseball Cap.

Tour Schedule:
Philadelphia:
Thur, August 11th at Grape St.
Springfield, MA:
Sat, Aug 13th at Cabot Street Pub
Nashville, TN
Tue, Aug 16th at Hair of the Dog
El Paso, TX:
Fri, Aug 19th at The T-Lounge,
Phoenix, AZ:
Sat, Aug 20th at McDuffy's

39 Reasons. With influences ranging from U2 to Weezer to Aerosmith to Pearl Jam, 39 Reasons manages to compose original, modern songs that are commercial while still maintaining an edge. Fans of bands such as Incubus, Jimmy Eat World and U2 will find a familiar, yet fresh sound with this band. Vocals hint at Brandon Boyd with an Eddie Vedder growl thrown in. 39Reasons are headed of on tour this week and we have a listener contest.

---

James Katz is on the NYC scene with his solo debut album titled: Glow

As founder, songwriter and frontman of NYC's legendary "Choosy Mothers", Katz took NYC's live music scene by storm in the mid 90's. The sheer mass of the Mothers' buzz allowed them to sell 15,000 recordings of James' original music without any label or marketing support! It was this great exploration within the live band performance circuit that moved James Katz to grow into a seasoned musician, songwriter, and overall entertainer.

His new release 'glow' is the culmination of his stylistic reinvention. Each flickering sonic ember... is representative of the spirit and talented glow that exists within James Katz.

---

The Matches sound like they could be The Next Big Thing. From Oakland California comes a hard hitting local band who formed back in '97. Shawn, Matt, Justin and Jon performed at a webcasting warehouse in San Francisco called iMusicast and promoted their events by playing accoustic sets around town a few days prior to the event. With no other promotion they sold out their events and became widely popular.

Years later comes an album titled: E Von Dahl Killed The Locals. This album include songs like: Dog-Eared Page, Chain Me Free, Audio Blood, Eryn Smith, Borderline Creep and Sick Little Suicide.

---

From Philadelphia V.K. Lynne left her guitar behind and moved to Los Angeles, she was been told that 'girls don't play rock and roll'. Well she found that girls certainly do in Los Angeles. She joined with her former band: Monogroove.

The first year in Los Angeles Monogroove and V.K. Lynne saw their place on Music Connection's Top 100 Unsigned Artists list. Spurred on by the acclaim her original songs were receiving, she left the band and formed her own backup ensemble. This led to a Rock City News Best Female Vocalist nomination in 2004. So, armed with fresh songs, ideas, and determination, she headed back into the studio with producer Mike Harrison. The result was Black Halo- a collection of her most personal songs from swaggering rockers to introspective ballads, all with the commonality of a flawed angel taking the narrative voice throughout. Not one to rest on her laurels, she is currently hard at work on material for a follow-up effort.

---

Peter Dutton. From early on it was clear that there was something different about Peter Dutton. He doesn't seem to be trying to reinvent the wheel, but its clear that he is turning it in a different way. His latest songs "Ghosts" and "be sure" show the painful frailty and sincerity of Elliot Smith and Nick Drake and yet combined with seemingly uplifting melodies and tunes found in the Beatles and Joni Mitchell back catalogues.

Peter plays all of the instruments on his recordings and records his own CD's. Normally for an acoustic singer songwriter this wouldn't be special. However, on Peters two track EP there are 2 guitar tracks, 4 Mandolin tracks, a trumpet and horn symphony and 3 vocals and yet when you see him live the songs sound just as full and colourful as on the EP.

---


Click Here for everything about the Live Jive at The Hive event on July 9th.

---

Angie Mattson was featured on our Cued-Up show last year with Tony Pretzello. She has been interviewed on Local Radiostations and appeared on ABC in her hometown in Michigan. Her song "Cold Soul" was featured on ABC's "8 simple rules". She was nominated at the LA Music Awards last year for Female Pop Artitst. She made a music video for her song "Drive". She is an independent artist who used to live in Florida and is now relocated to Los Angeles. With an 8 song EP titled: "Monarch", produced by Rudy Hausermann Angie has created an extraordinary Demo. Every song is practically fit for the hitlists. You can find her playing live all over the city.

---

Spector 45 is greaser Punk Rock from Dallas Texas. The band says this is what rock n' roll should be, loud, fast, strong, rebel Rock, for Kids/ by kids. The bands four members are all under 21 and are spending everything they make on promoting their music. Spector 45 comes from a reference to a mad genius known for his "Wall of Sound". Guess Who! Spector 45 finds their spirit from a long line of American Punk Rockers.

---

SABA - With three albums to her name, Saba has been called "one of the best voices in the San Diego Music Scene.

Blending elements of folk, pop, jazz and rock, Saba is determined not to be limited by genre or gender, and rejects attempts to let either define her as a songwriter or performer. "For some people, a woman writing music and playing guitar is a sort of novelty act."

---

Libbie Schrader and her band "Think of England" has won several competions in both New York and San Francisco. Now she is performing as a solo artist. Her style is soulful piano-rock. Her CD, "Letters to Boys" was released in the spring of 2004 and her new CD "Taking the Fall" has been added to Local Los Angeles radio station KCRW's library.

Libbie Schrader and her band are hitting the floor at The Hotel Cafe on June the 22nd. You can find her on the web at www.libbieschrader.com

---

Marina V is a perfect example of Indie Music which has Appeal, Charisma and a Top40 hook. Marina's sound is absolutely Magical. Her song "Underneath Your Sky" from her new CD release "Simple Magic" draws you right in. In my opinion this song deserves to be placed at the top. "Underneath Your Sky" is produced to perfection.

Her first release came in 1999 about 6 years ago and since then it has been 4 CD releases, Television appearences and a lot of local gigs. This summer she is playing live all over Los Angeles and You can find her on the web at www.marinav.com

---

Arto Laine
singer/songwriter from Finland. Arto has a few songs out as including: Keep on Sweet Dreaming, Between Pleasure and Pain, and Cadillac Girl. He is also featured on Robert Plant's first Tribute album 'Plant Waves... on the song: Anniversary.

---

Stereo Fiend is based in Los Angeles, but spawned on both sides of the Atlantic, Stereofiend is a band whose music manages the delicate balance between hard-edged aggression and raw emotion. The musical tastes of the five members (Juliet, Dylan, Will, Brent and Travis) cover a myriad of incluences, and the natural -- almost organic -- process of the band's democratic approach allows these influences to flow into the fusion that produces the high-powered pulsating sound that is Stereofiend. Their website is www.stereofiend.com

---

The Vacation. The Vacation plays a gritty, swaggering brand of rock and roll that recalls the visceral punch of punk, the anarchic energy of turn-of-the-'70s garage bands, and the monster hooks of such vaunted outfits as The Rolling Stones, The Beatles, The Kinks and The Clash. The Vacation has a new album out which is named: Band from World War Zero. You can also find their older release: "They were the sons" on their website www.thevacationmusic.com.

---

Isaac Angel has just released his new CD and we are playing: Come Away as its released on the CD. A first time radio airplay It features a duet with pop star Reyhan Karaca. His website is isaacangel.com

---

From Hollywood, California to Hollywood, Florida. Vickie Raye hits the stage at 7.30PM wednesday May 25th at The Improv Comedy Club.
Vickie's love for music crosses over many genres, and country music is where she finds comfort. She says her style has "a little of this, a little of that and a lot of heart". She is well worth checking out on the web at vickieraye.com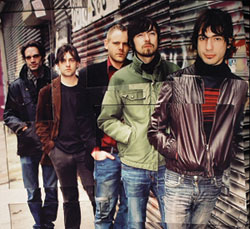 Hopewell. A brief scan of heraldic press clippings for their last release (The Curved Glass) – from the NME, CMJ, the Village Voice, Time Out, Wire, Magnet – divulges a clear journalistic pattern of enthusiastically describing Hopewell in terms of opposition: delicate/visceral, sublime/stabbing, crushing/romantic, immense/fragile.
---

Two years ago Laura, Sienna and Megan were three strangers with one thing in common: the ability to rock. It was this commonality that drew each of them as regular performers to the stage of Mr. T's Bowl; the cradle of L.A.'s fiercely independent rock scene. The Randies were making great music while developing a solid fan base playing at popular venues around L.A., but they still hadn't found their dream drummer. When the girls hooked up with Kelly, (who was fresh off the road with Green Day and Blink 182) they knew they had found their missing piece and punk/pop world domination was at hand.

With the 2004 release of their album: At The friendship Motor Inn The Randies are having the time of their lives bringing their unique brand of melody driven punk to their legions of fans.
---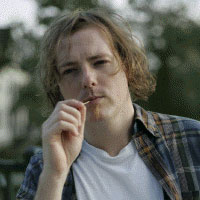 From Utica, Michigan comes ALternative Acoustic Rock singer Deron Feivel. His music has dynamic vocals and powerful lyrics. He uses music as a way to touch, heal and move people. His shows are upbeat yet emotional at times and a connection with his audience is what he mostly strives for. He is performing live in and around Michigan these days and you can find him on the web at www.deronfeivel.com.
---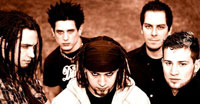 Eqypt Central. There is no time for a pity party. John Falls (frontman) would be the first to tell you this. Your life is what you make of it. John was abused from the age of two until he was eight. As a result, he was taken out of his home and into the state's custody. During that time he was moved from foster home to foster home. He never felt secure anywhere yet he didn't let that get in his way of succeeding in whatever endeavor he took on – sports, grades, etc. John lost sight of his path for a moment at fifteen when he fell into gang activity, selling drugs and rebelling against authority. Fortunately for John, good friends inspired him and encouraged him to a new way of life through music. This began the journey to piece together a band and find his success in music.

Hanging out one night in a club, John spotted a kid who just looked the part of a rock star. John asked around and found that this kid was guitar player Heath Hindman. After countless conversations, John was able to convince Heath to join him on this new project. Now John and Heath went searching for the rest of what they needed.

Time passed by and the two were nearing their breaking point. Then one night when they were on their way to a friend's practice room for advice, they heard a drummer boom from down the hall. Heath knew who it was and knew that this was the drummer they needed. He told John to work his magic and convince the young prodigy – Blake Allison - to join their group. Blake told John that he might do it but that he only played with one bass player and that they came as a pair. Blake called his best friend and fellow musician Joey Walser in Chicago with the proposition of leaving the jam, funk, jazz scene and trying rock. Months of private conversations between the two followed. Blake and Joey decided to join John and Heath and give it their all. Joey moved to Memphis and the core of the band was finally realized.

For the next few months the group wrote and wrote and wrote, every night sweating out the new style of music, and smashing many styles into one. The foursome knew they wanted a second guitar player - it had been an idea from the beginning. They tried out a few situations that didn't work out to their liking. Things were looking pretty dead end. Serendipitously, Heath happened to bump into his fellow guitarist Worm from his first band in the hallway of his friend's apartment complex. Heath and John had wanted to get him to come with them from the VERY beginning, but he was committed to another band at the time. As luck may have it, Worm's band had just broken up. Finally Egypt Central was complete. They recorded their debut album with Josh Abraham (Velvet Revolver, Korn, Limp Bizkit) in Los Angeles. Unfortunately, once the record was finished, the band was confronted with an onslaught of troublesome experiences...yet they rose to beat down every conflicting situation thrown at them. Egypt Central remained everything that they stand for and overcame those unforeseen obstacles of life and hard times. Due to overwhelming demand, the band made their debut album available in Memphis and online. With remarkable results their cd debuted as #1 independent release in the Memphis market and started selling online to fans from all over the world. Egypt Central is amped up playing shows outside of Memphis and spreading their eagerness to overcome everything from suppression to being unaccepted. Everything is possible in this life. There is no time for a pity party.
---

Hailing from the heart of the Orange County suburbs, Mike Baas is a musician of many hats. He has played key roles in a number of different bands: bass player and lead vocalist for the rock band Zero Tolerance, electronic music producer as Initself, keyboardist in 'acoustic fusion' The Finish Line and most recently playing acoustic guitar and keyboards behind Alec Bridges. With the release of his new demo 4, Mike has stretched out into the public eye introducing a new breed of technical acoustic guitar playing and songsmithing alongside his newly formed band.
---

The Evil Queens have been compared to Quicksand, Kiss, Fu Manchu, and an arena-rock-tinged Six Finger Satellite. Comparisons aside, more often than not, people have one thing to say about The Evil Queens: "They rock."

The Evil Queens are Mike Eckhardt, Eric Hinterscheid, George Hondroulis, and Jacob Sundermeyer.

The Evil Queens are releasing their record First It Boils, Then It Spills on September 13 of 2005 on upstart NYC indie Addison Records.
---

From NY comes another Electronic Indie Artist. Her name is Jen Scaturro aka I am Jen. Vocally she is compared to Suzanne Vega and her music is a cross between Massive Attack and Aphex Twin.

Synth, Bass, Guitar, Drum machines, melodica, stylophone and accordion...Jen was playing piano before she could walk. She toured the west coast in jazz and pop bands, recorded a single and built a recording studio in her bedroom by age 15.

Her EP titled: Broken was released last year and her music has allready been licensed to both HBO and MTV.
---
---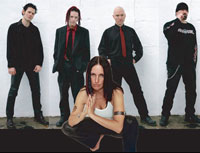 From Toronto, Canada comes an awesome band named Ripped. This band will forever be on The Indie Airplay Hall of Fame. When I first came to their website and heard their songs I was absolutely blown away. Every song were a hit. Show Me, Anodyne, A daily Ritual and even Call Me.

Ripped brings ethereal vocals & harmonies combined with guitar rock & pop melodies to their music which are inspired and compared to Garbage, Biff Naked & No Doubt.

They have two CDs out. The first "BloodShot" and their later" Blow Your Mind"
---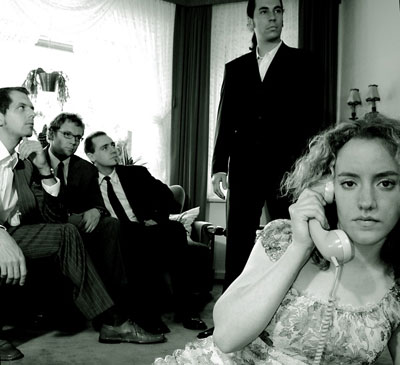 A Rocking Band from Hamburg is taking Northen Germany by storm.
Caleidoscope is kicking off their tour with a huge show at The Knust in Hamburg on August 11th. for those of you listening in from Northern Germany, this is a band and a tour worth cheking out. After their concert in Hamburg its off to Luneburg, Gottingen, Koln and Weimar...and they are wrapping in Berlin at the Mudd Club. Here are a few pictures from their past shows.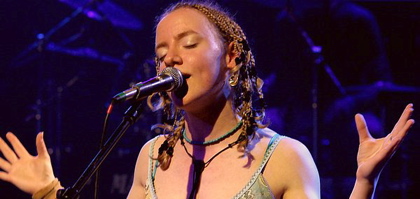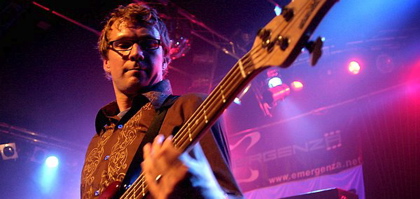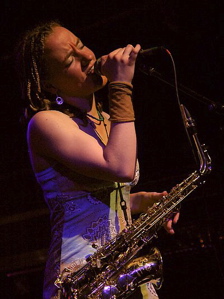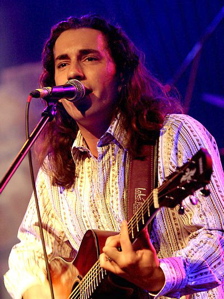 ---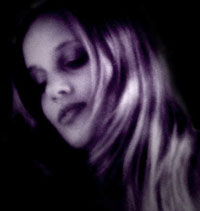 Lily Holbrook, an unusual newcomer on the underground scene comes from Boston. Lily started out by playing her music in the streets and subways of Boston, capturing audiences with her expressive voice and touching melodies. Soon she began making her way into the local club scene, playing at venues such as The Middle East and TT the Bears. She has earned respect and admiration from both fans and fellow musicians. Lily took it further and produced: Running From The Sky, a 9 track album.
---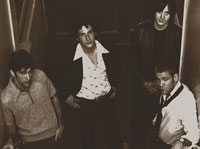 The New Left.
It all started in Indiana back in High school when Kyle Cook, Brett Borges and John Kibler all met and formed The New Left. Later they were joined by Eamon Ryland from Topanga, California Their first 6 songs EP titled: Let Go was released last fall.
---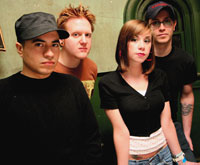 My Little Radio have only been together a few month but allready they have channeled their energy, heart and emotion, and emerged onto the North American music scene, ...a blend of melodic rock infused with snap beats and metal undertones. They use tragic life experiences, both personal and professional, as the driving force behind their creative process. They are growing a solid fan base these days and their music is exceptional.
---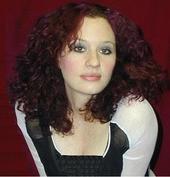 Amethyst is her stage name. In reality her name is Valerie Day. She is the middle child of 5 born in California. Music and art has been part of Valerie since the beginning. She performed in every talent show in elementary school. Musically, she excelled from the age of 5. Besides her talents in art, drama and singing, she was also involved with Junior Olympic Diving. She sang with her sisters, Ginger, Amber and Jessica at many events throughout the years. She taught herself how to play the piano and from an early age could hear the whole orchestra accompaniment in her mind. Her music today is the embodiment of that vision. On The web you can find her at www.amethyst.com .
---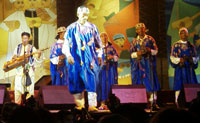 Live from the Gnaoua Music Festival 2005.


DOWNLOAD Show 1
DOWNLOAD Show 2

In the end of June we will be bringing you live sounds from The Gnawa Music festival in Essaouira, Morrocco.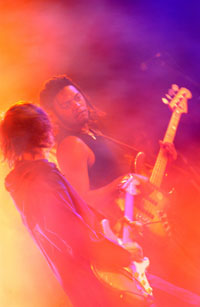 Indie Airplay's Co-Producer Yannick Agliardi from Ayma Entertainment will be at the Gnawa Music festival with live reports from local and foreign musicians playing at the festival. Among others The Wailers from Jaimaica will be playing at the festival this year. Gnawa Festival
---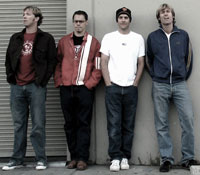 From San Francisco comes an Indie Noise Pop Band named Recliner. The have been compared to Pixies, Bad Religion and Fugazi.

Recliner has toured in Japan and their videos has been shown on FuseTV and Rollingstones.com. They have a full length albumout titled: "Make A Friend". Their music is as raw as it's refined. Its a dynamic sound drawn from big guitars, a powerful rythm section and sweet vocal harmonies. They create a sound thats uniquely their own. The album is recorded at Tiny Telephone Studios in San Francisco. Recorded and mixed on Analog Tape.
---
My Brothers banned takes influences from Gram Parsons, Uncle Tupelo,Whiskeytown, Ramones and the Meat Puppets, finding a balanced blend of acoustic instruments and raw energy. All band members have roots in punk rock and then felt the gravitational pull towards American roots traditional music.
---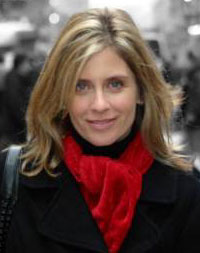 Helen Slater has been making movies for 2 decades, but now she is back into music. She has recorded 2 live-in-studio albums in Nashville, Tennessee, The later "Crosswords" features a song titled "Any Day Now" which was VH1 Save the Music Foundation finalist.
---

Sara Bareilles sound has been described as everything from Norah Jones to Joni Mitchell, Fiona Apple to Alicia Keyes. It is tempting to make comparisons but she's much more than a carbon copy. Influenced by soul, jazz, rock, and pop - her writing is bold, honest and edgy. Intelligent, unpredictable lyrics and melodies delivered courtesy of a truly soulful and powerful voice, Sara's music is something that definitely sets her apart.

Sara Bareilles gig at The Hotel Cafe on June 27th is the only one scheduled for the summer so this will be your chance to hear her live. She is on the web at www.sarabmusic.com
---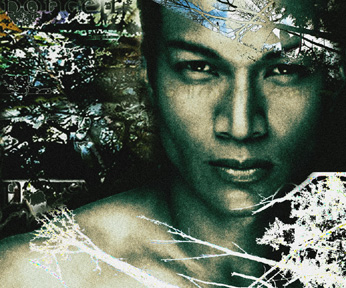 Xisco Ponce Jr. combines hypnotic dance rythms, soaring melodies with his angelic vocals to create a breathtakingly beatuiful and haunting record. Xisco has been compared to Sade, George Michael and Moby. Xisco Ponce Jr. calls his latest release titled: Suite a romantic bittersweet soundscape. You can find him on the web at http://www.xiscoponcejr.com.
---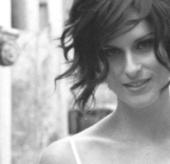 Arden Kaywin. has recently been nominated for Female Vocalist of the Year for her album: Quarter Life Crisis. She has been compared to Sarah Maclachlan and Five for Fighting. She is performing live in Hollywood and she is also planning an East Coast tour. Her website is www.ardenkaywin.com.
---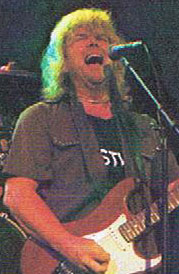 Jesse Damon and his rock band from SoCal have been rocking the music scene for the last two years. Influenced by such classic bands like KISS, Whitesnake, Cheap Trick, Def Leppard , and Foreigner, he brings a sound within his music that also fits today's mold, and rivals the likes of the Goo Goo Dolls, Velvet Revolver, and Gin Blossoms of our time! Jesse Damon can be seen at B.B. Kings at Universal City on Wed. June 14th at 9pm performing songs like: Good Life, I know What You Want and I Want You.
---
New Pictures!
Moktezoom at
The Acafest in Acapulco

Click here

to enlarge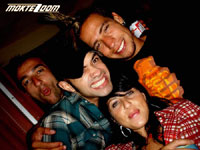 A Band with a different name and alternative to the alternative. Moktezoom is LA's newest eccentric collaboration of alternative music. Their distinguished styles derive from a mixture of early and current pop cultures where ancient meets modern and modern meets history.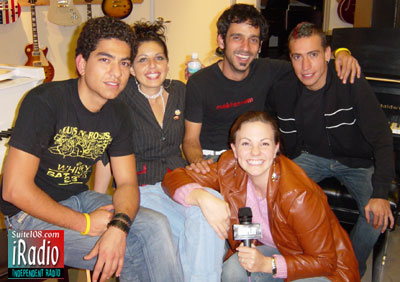 Interview with the band tuesday March 22nd 9.30pm. We met the band at their showcase event at The Gibson Center in Beverly Hills. Pictures from the event.
Click below to listen to our interview with Moktezoom.


WINDOWS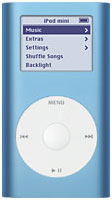 DOWNLOAD
Indie Airplay is sponsored by: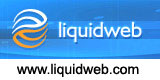 Sign-up for a new webserver from Liquidweb and get your first month free if you mention: Indie Airplay! Their phone number is 800-580-4985
Indie Airplay and The Monday Show is made possible in part by Liquidweb.com....Now I don't believe in tagging Podcasts with a bunch of advertisements...thats not really what Podcasting is about, but in order to get this show out to you, we need sponsorships to pay for the cost of bandwidth...and I want to make sure that all of you are able to enjoy this show in the future. I'm honored to announce that Liquidweb.com (the datacenter which is hosting our website) is providing the neccessary bandwidth and...covering all costs involved with our website and thereby also supports Independent Music.
---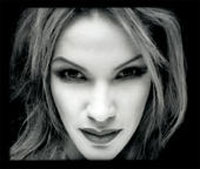 D.W. Box aka Diane Williams is from Louisville, Kentucky. She writes and performs solo with her keyboard and her new release I.C.D.T.O.T. is available on onelongsong.com and myspace.com/dwbox. We picked her song:...The real Thing as our favorite.
---
Cinematic. From down Under comes a very cool band named: Cinematic. Their sound is real hot and carries a lot of different styles from 70s style Pop to Progressive Rock to Jazz. The Five piece band has recieved airplay on several radio stations and their music can be heard on shows like: "A current Affair".
---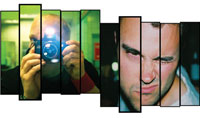 The Dammitheads are a rock and roll entity unbashed and unbowed. While the name serves to represent the group as a band, it more accurately puts to name the creative writing/ recording vehicle and schizophrenic alter-ego for one otherwise begrudgingly titled singer/songwriter named David Tomaloff and his creative counterpart, drummer Steve Hawkins.
Their sound recalls hints of bands such as The Rolling Stones, David Bowie, The Clash, Elvis Costello, The Cars and Gang of Four. The Dammitheads' debut album is titled: Freeze Motherstickers
---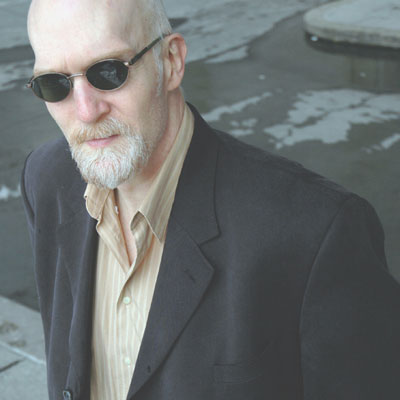 Daniel May. With touches of swagger and grace this seasoned soulful singer-songwriter delivers an album full of melodic twists and turns. From the jail-bustin' freedom of "Lights Out in Tupelo to the edgy southern blues rock of 'It Ain't You' and the beautiful flamenco touch of 'Enjoy', every song is succinct with style, story and soul, while the album maintains a wonderful sense of continuity. Daniel May's voice ranges from a leathery Clint Eastwood rasp to warm, rich baritone, but both are like listening to a good friend sharing a few stories. Producer Anthony Newett captures the spirit of each song brilliantly.
---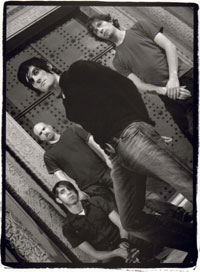 Kaura was born from the vision of infusing the aggressive power of hard, yet melodic rock with the haunting and ethereal sounds of ancient instruments. They altered their guitars added some bells and tribal drums and finally added strings to the recordings. After years it turned into a 5 song EP with a very unique sound. Their website is www.kaura.com.
---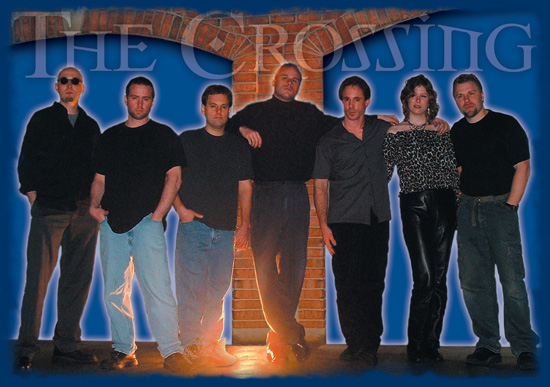 The Crossing
are from Chicago and they have just released a brand new album. The Crossings new album is filled with melodic songs which are very catchy. Castaway, The second track on the Album, is my favorite.
---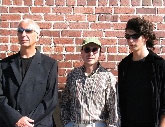 The Seventh Reason
There is reflection of the most popular rock'n'roll sound of the last 40 years, transformed into an extremely modern expression when you listen to The Seventh Reason.
---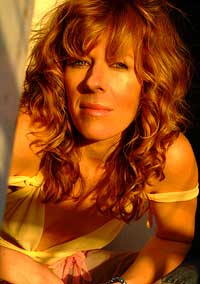 Samantha Murphy has a residency at The Mint every Wednesday in May "Dinner & a Song" She'll be bringing in 2 different singer songwriters every week!
---

Ashton Zyer Its the emotion behind the songs on "FALLEN" and "SILENTLY" that makes it uniquely Ahston Zyer. Her own life experiences drive the tracks on her two releases, including: "Crazy", "Saturday" and "Farewell My East". Ashton Says: "I want people to know I understand that we all deal with the same pain, hate, love and passion." Ashton successfully leaves an impact and takes her listeners on a journey, leaving her audioence wanting more.
---
Angeles Drake has just released their debut album: "I wish you would come home, already". The albums central theme is about relationships says Singer Jonathan Haskell. Everything in life is a cycle of learning, growing and building significant relationships. The band is getting popular and is recieving airplay on local and satellite radio stations and now also Internet radio.
---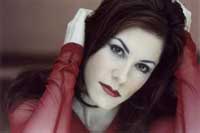 Cindy Alexander is Hot Airplay. It is rare that an artist has so much to offer her audience: talent, beauty, charisma, songs that people can't help but sing along with, and lyrics they want to quote to their friends. She's been named one of L.A.'s "Hottest Unsigned Bands" by Music Connection, the "Best of Local Licks" by KLOS, a "Buzzing" artist by Hits Magazine, and has topped the charts at mp3.com. Cindy is ready with the release of her 3rd album, coming up this thursday at 7.30pm at The Derby. This is the event of the week and Its the start of her westcoast tour. Cindy is hitting Bakersfield, San Jose, Santa Cruz, San Francisco, Portland and Seattle before may 1st. Check the specific dates on her website: www.cindyalexander.com
---
JULIAFLY. French Finesse and Brittish Classic Tweed gives the band a distinctive European flavor balanced with Motor City hard hitting beats and Mid-western Twangy Bass.
---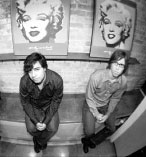 Gidgets Ga Ga
Echoes of classic British Invasion pop, Nirvana, and The Replacements. GIDGETS GA GA tell the world a story of life, love, loss, and rock and roll. They have spread their word from every major stage in Chicago and are poised to break out to the world at large. Their website is gidgetsgaga.com
---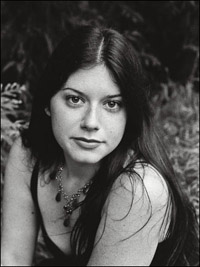 Jessica Caterina,Jessica is from New York and thought she moved to Hollywood to become an actress but found her passion in music. She is one of the best artists on the scene.
---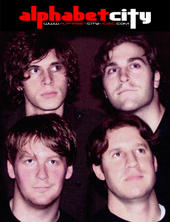 Alphabet City
is from Floriday. Their sound is energetic original rock music coupled with a sometimes funny, occasionally sexy, but always self-aggrandizing stage show. (increase of power) They are now being booked across Florida and plan an east coast tour for late summer '05. Says Chris Hillman, drummer for Alphabet City.
---